VISION OF CAF
CAF with its good capacities will become a strong college to support CTU's and national strategic plans to 2030 in aquaculture and fisheries.
MISSION OF CAF
The generally major mandates of the College of Aquaculture and Fisheries are:
- Offering undergraduate and graduate educational programs in the fields of aquaculture and fisheries.
- Conducting researches related to aquaculture development, aquatic environment, fisheries resource management, and marine biodiversity.
- Transferring technologies of aquaculture and fisheries to farmers and the commercial production sectors in the Mekong delta and related region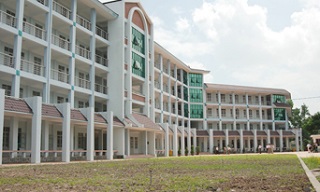 The College of Aquaculture and Fisheries (CAF), Can Tho University (CTU), was established in 1979. For over 30 years, CAF has been always attempting and developing itself to fulfill its missions of education, research and technical transfer on the areas of aquaculture and fisheries in order to meet the need of manpower and advanced technology for the development of aquaculture and fisheries in Viet Nam,  and the Mekong Delta, particularly.
At present, CAF has 107 staffs, of which there are 61 instructors and 43 researchers, holding different titles and degrees (12 Associate professors, 34 PhD, and 41 Masters). CAF has 7 departments as follows:
- Dept. of Applied Hydrobiology
- Dept. of Aquatic Animal Pathology
- Dept. of Aquatic Nutrition and Products Processing
- Dept. of Freshwater Aquaculture
- Dept. of Coastal Aquaculture
- Dept. of Fisheries Management and Economics
- Administrative Unit
CAF has a system of advanced laboratories, hatcheries, and field stations in both freshwater and brackish water areas to support education, research and technical transfer locally and internationally.
Since established, CAF has over 3,000 alumni. Currently, CAF has 1,700 undergraduates, 150 master and 30 PhD students. CAF currently offers 9 programs for Bachelor degree: Aquaculture; Aquatic Animal Pathology; Aquatic Resources Management; Fisheries Economics; Aquatic Products Processing; Mariculture and Marine Resources Conservation; and Advanced Program in Aquaculture (taught in English and 2 transferred programs from college to bachelor degree (Aquaculture and Aquatic Products Processing). CAF currently offer 2 programs for Master degree (Aquaculture and Aquatic Resources Management) and 1 programs for doctoral degree (Aquaculture)
In recent years (2006 – 2013), CAF has conducted more than 150 researches in different fields, published a large number of scientific papers and contributed significantly to the practical production and development of aquaculture and fisheries in the region.
CAF regularly offers training courses for national and international participants, especially on (i) seed production and farming of freshwater and brackish water species; (ii) live food culture and use; (iii) water quality analysis and pond management; (iv) fish nutrition analysis and feeding formulation in aquaculture; and (v) fish and crustacean disease analysis, diagnosis and treatment.
Contact Address: College of Aquaculture and Fisheries
Can Tho University (Campus II), 3/2Street, Can Tho City, Viet Nam
Tel: 84-710-3834307       Fax: 84-710-383032
E-mail: This email address is being protected from spambots. You need JavaScript enabled to view it.